Robinson Interiors
About
Fitted Cabinetry for customers who demand the exceptional.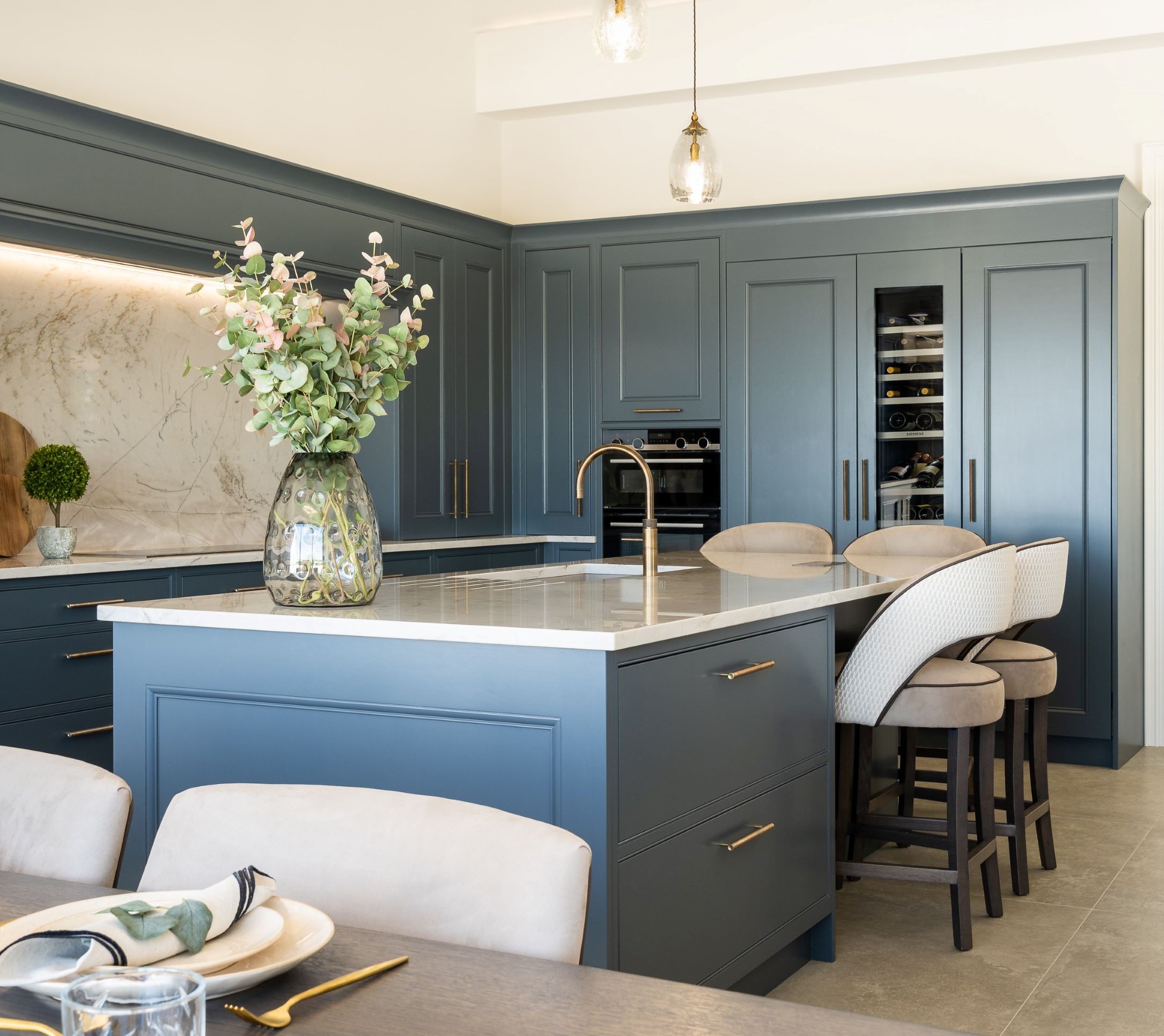 Robinson Interiors
Here, every designer is as passionate about food as they are kitchen design and this matters. It provides real insight into the purpose, form and function you desire. It's not simply about kitchens, rather creativity and detail. It's about ensuring storage and food preparation areas work together, about the precise integration of 'multi-purpose' cooking, dining and living spaces - including flooring and lighting.Above all, it's about your experience, about giving you a space which looks great and performs equally well – every day!
Design Service
How We Work
Robinson Interiors
Robinson Interiors
We established Robinson Interiors in 1976, first setting up shop in Carryduff and then moving to our current purpose built, award winning design studios in Boucher Road, Belfast.
As the business grew we employed more designers, kitchen fitters, drivers and project managers to provide a unique design service and customer experience.
From design brief, to AutoCAD detailed floor plans and final install by our own in-house fitting teams, each step is carefully co-ordinated offering you complete peace of mind and minimal disruption.
It's been over 40 years from when the vision and passion of Arthur Robinson translated into Robinson Interiors. Today, business partners, Mark and Stuart Robinson, continue applying the same rigorous and long established standards of quality, customer service, and attention to detail.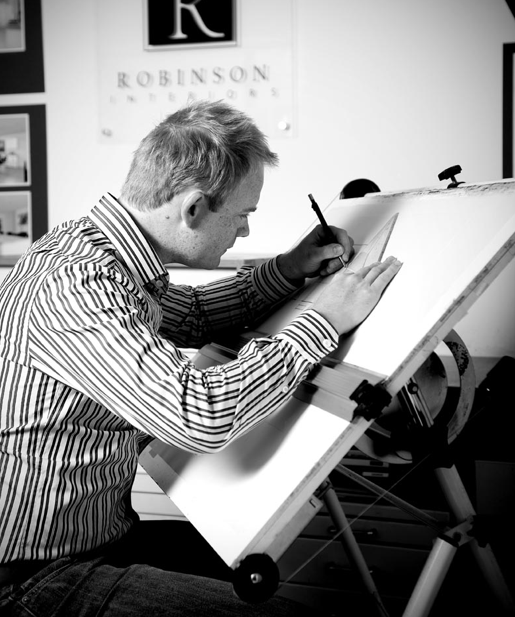 Robinson Interiors
Philosophy
The philosophy of forward thinking design coupled with fine tuned project management, installation and customer service is at the heart of our company today.
We design and build home environments for a diverse range of clients all around Ireland and the UK. We have also worked on commissions as far as France and the USA. Whatever you project and budget might be, we are always happy to sit down with you and explore all options and possibilities.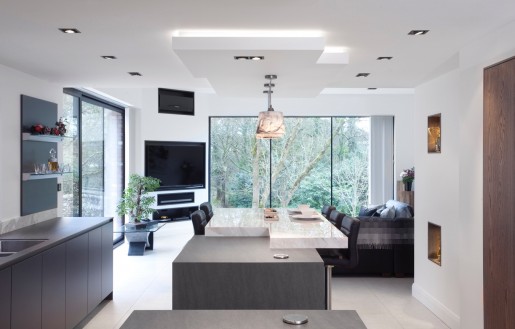 Testimonials:
What Our Customers Say
I would like to take this opportunity to thank you & your colleagues for your assistance in designing, supplying & installing the kitchen. Your hard work is greatly appreciated.
Prof. Peter Gregson, Vice Chancellor of QUB
I am delighted with my new kitchen and you have been a pleasure to work with from start to finish.
Sharon Corr, The Corrs
Dedicated to providing quality products and a high level of customer service.
Ireland's Homes Interiors & Living Magazine
We are delighted with our new kitchen from Robinsons and were impressed with the skill of their staff, both in the original design and the fitting of it by their technical staff. They devised some features that we would never have thought of otherwise, and were always available with friendly customer service to advise and help with ideas to make the most of our limited space. Highly recommended.
Andrew Wallace
Having recently settled into our newly rebuilt kitchen , we would like to commend Robinson's , and particularly Mr Jim Rapanos their senior designer, for his most professional advice and guidance during the project. The entire team ,along with Stuart and his most conscientious installers, were always most willing and highly professional throughout. The time planning and coordination with all involved was superb.
Jo Friel
We are thrilled with our kitchen and the overall service we received at Robinson Interiors. Our kitchen is now 7 years old and looks as good now as the day it went in. Great friendly staff and customer service.
jim jeffries
We would highly recommend Robinson Interiors. Our new kitchen is a delight. Many thanks to all involved :)
Tom Price
First class service and support from Robinson Interiors. I dealt with Mark and he is very professional and experienced. I would 100% recommend Robinson Interiors and would happily deal with them again. Their showrooms are also very well presented and are in a handy location for those traveling from Dublin, Ireland.
James A
Michael Grant at Robinson Interiors provided us with our dream kitchen. The design was exactly what we were looking for with a difficult shaped kitchen. The professional workmanship was second to none. Everyone was very friendly and attentive at Robinson's, a first class service throughout.
Lucy Graham Topping
We are incredibly happy with the design, quality & craftsmanship of our kitchen, 5 stars to Robinson Interiors for the service provided! Would highly recommend.
Panos Pomonis
What can I say! I love my new kitchen. Great thought put in to the kitchen plan. Excellent fitting team involved in the kitchen installation process. Kitchen hand painted to perfection. A big Thank you to Jim Rapanos and all the team in Robinsons Interiors. p.s my cats love it too
Mary Byrne Quinn
Many thanks to Jim, Stuart and all the wider team at Robinson Interiors for the fabulous design and fit of our new staff kitchen area here at Tobermore Concrete. Every aspect from Jim's inspiring personal design to the quality workmanship which was perfectly timed, was superb in helping to achieve what has turned out to be a truly exceptional area for our staff. We all love it. Well done and thank-you to everyone at Robinson Interiors!
David Henderson
Just sitting in my brand new Rational kitchen designed and installed by Robinson Interiors. From initial chats and consultation to fitting and after service from the team has been second to none. Michael, Alistair and Davy were all incredible and very attentive. If you are thinking about upgrading or installing a brand new kitchen, look no further!
David Walsh
Thanks to Jim Rapanos and all the staff at Robinsons for delivering on my dream kitchen, wonderful advice on design, faultless workmanship & 100% reliability. Many thanks to everyone
Emer Curran
Beautiful kitchens and great team to work with , my kitchen is now 12 years old still looks fantastic has not dated one bits and still receives compliments people do not believe it is 12 years old.
Patricia Brown
Great team to work with from early design stage to installation. My kitchen is 15 years old and I still receive compliments for it. Highly recommend.
Jack Watt
We would highly recommend Robinson Interiors. Our new kitchen is a delight. Thank you to all involved, but especially Jim Rapanos for his excellent design skills and to Stuart Robinson who made sure we were completely satisfied with our finished kitchen. A top class service.
John Henry
Robinson Interiors
Awards & Recognition
More than simple recognition, kitchen awards measure achievement against the most intense business scrutiny. From staff performance, how each project is managed, assessment of financial stability, even showroom appraisals, each award provides added customer confidence. Above all, peace of mind your deadlines will be met, your vision correctly interpreted and that your living spaces will function perfectly.